The Ephemera Society News
The Ephemerist: Winter Issue 2013
The journal will be posted to members during January and contains
the following articles:
Diane Bilbey 'Britain can make it': a dream of the future
Shauni Lane Pencil me in
Sarah Barker The changing face of the volvelle
Derek Twiner Two boxes – one year on
John C. Foster Papering the house – theatrically speaking
Plus regular favourites: Mrs Pepys' Diary and Notes & Queries
A History of Chromolithography:
printed colour for all
Publisher: British Library Publishing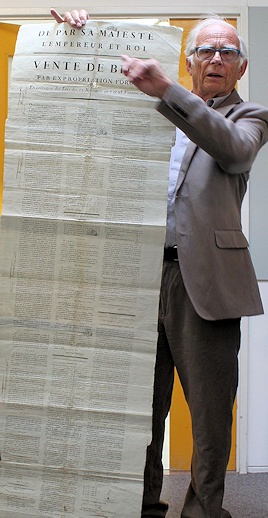 This major new book, by Ephemera Society member Michael Twyman, (illustrated with 850 colour illustrations) traces the evolution of chromolithography (lithographic colour printing) from its tentative beginnings in the early nineteenth century to its dominant industrial position in the fifty years before World War 1. The story ends with its gradual decline commercially and revival as an artistic medium in the mid twentieth century. It is the first book to consider the process from a global standpoint and makes connections between developments in various European countries and between Europe and the United States.
Chromolithography was applied to a wide range of products – illustrations, posters, ephemera, maps, and reproductions of works of art – and it is argued that it helped to change perceptions of the world by bringing colour to so many walks of life. Chapters are devoted to the trade, and many others to explaining the methods used by chromolithographers, some of which may require readers to suspend their disbelief!
Publisher: British Library Publishing
ISBN:9780712357104
Hardback, 728 pages, 305x225mm includes 850 colour illustrations
http://shop.bl.uk/mall/BritishLibrary/
Auction News: Titanic Interest
Biddle & Webb Auctioneers
RMS Titanic was a British passenger liner that sank in the North Atlantic Ocean on 15 April 1912 after colliding with an iceberg, during her maiden voyage, resulting with the loss of more than 1500 lives.
Two elusive Titanic items of ephemera will go under the hammer on Friday 10 January, 2014 during this Fine Arts and Antiques auction.
A great deal of interest has already been received, and more can be expected with such a resonant name as the Titanic.
A framed White Star Line broadside for R.M.S Titanic, c.1912, lithograph with hand coloured wash and heightened with white.
Period newspaper articles and photographs pasted verso, including the 'New York Tribune, Tuesday, April 16, 1912', lists of various passengers in first, second and third class cabins; other headlines include, 'London Hear's Late of Loss of Titanic' and 'Save Our Souls, was Titanic's last appeal'. 37cm x 26.5cm. Est. £5000 - £10000
A full edition of The Illustrated London News, April 20, 1912, vol. 140, issue no. 3809, 52 pages, including front and back cover, with photographic and article documentation of the Titanic disaster including a cross section of the vessel, notable passengers aboard, details of the wireless telegraphy and on board photographs, alongside other news articles and 1912 advertisements. Est. £100 - £150
Visit www.biddleandwebb.co.uk for full details.
Women's Suffrage Memorabilia
Kenneth Florey
While historians have long recognised the importance of memorabilia to the Woman Suffrage movement, the subject has not been explored apart from a few restricted, albeit excellent, studies. Part of the problem is that such objects are scattered about in various collections and museums and can be difficult to access. Another is that most scholars do not have ready knowledge of the general nature and history of the type of objects that suffragists produced.
New techniques in both printing and manufacturing around this beginning of the twentieth century created numerous possibilities for supporters to develop campaigns of "visual rhetoric." This extensively illustrated work analyses 70 different categories of suffrage memorabilia, including postcards, buttons, ribbons, sashes, toys, china, advertising cards, sheet music, Cinderella stamps, and playing cards, while providing numerous images of relevant objects along the way.
This study looks at period accounts, often fascinating, of how, why, when, and where memorabilia was used in both America and England to promote the cause of Woman Suffrage, and what meaning these objects contained for suffragists themselves. There are also sections devoted to the presidential campaigns of both Belva Lockwood and Victoria Woodhull and their attendant memorabilia.
Print ISBN: 978-0-7864-7293-2
E-book ISBN: 978-1-4766-0150-2
266 pages with 214 photos (49 in color in 16 pages of color inserts),
notes, bibliography, index, soft cover (7 x 10in)
www.mcfarlandpub.com