The Ephemera Society News
Labels of Empire
By Susan Meller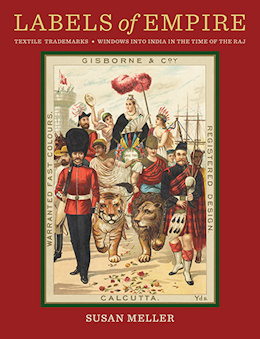 The book focuses on a little known, but highly important, aspect of late 19th and early 20th century British (and Indian) textile industries - the fantastic chromolithographed paper labels that textile manufacturers and their agents pasted on their yard goods. Called "shipper's tickets" in the trade, they were in effect the companies' brands and were designed to catch the eye of shoppers in the bustling Indian markets.
The images shown on the labels accurately depict the pantheon of Hindu deities; maharajas; dancing girls; daily Indian life; etc. - all rendered with exquisite detail.
Labels of Empire begins with the late 19th-century heyday of British textile manufacturing and closes with Indian independence in 1947. By combining visual narrative, popular culture, magical realism, and history in a way never done before, this book offers an unprecedented look at the British and Indian textile industries in the time of the Raj through their remarkably successful use of attractive paper labels as trademarks.
Serving as a premium of sorts, most of these labels survived because they were collected, saved and often framed by the Indian people - then and now. Today these long-surviving pieces of "ephemera" are being recognized for their beauty and their role in the history of the textile trade.
Hardback • 544 pages • Size: 9¼ x 12 inch • Colour images throughout
More details: Labels of Empire
More Than a Snapshot: A Visual History of Photo Wallets
By Annebella Pollen
For over 100 years, when you'd often have to wait a week to see your photos, film processors used photo wallets - cheery illustrated envelopes - to return your pictures to you. They showed what subjects were considered suitable for a snapshot: bright-eyed children, laughing couples, adorable pets and perfect landscapes; they also reinforced prohibitions by what they omitted.
Drawing from the author's personal collection of photo wallets from the 1900s to the 1990s, Annebella Pollen's book charts a century of popular photography in Britain: the birth of a new mass leisure pastime mainly marketed towards women, the growth of camera ownership after the Second World War, and behind it all, the working conditions of the people processing the films. It commemorates a time when you never knew if you had captured a treasured memory or your finger in front of the lens.
Hardback £12.00 • 112 pages • Size: 22 x 16 cm • Colour images throughout
Publisher: Four Corners Books
Menu Design in Europe
Author: Steven Heller
Europe's reputation as the centre of the culinary world is confirmed with this expansive array of restaurant menus from across the continent.
From extravagant bills of fare for royal feasts to delectable mid-century minimalist graphics, the gustatory customs of dozens of European countries are revealed in this encyclopedic design compendium.
Featuring an essay by graphic design historian Steven Heller and captions by leading ephemerist and antiquarian book dealer Marc Selvaggio, Menu Design In Europe features menus from leading collectors and institutions, providing a sumptuous visual banquet and historical document of two centuries of culinary traditions.
Hardcover • 25 x 31.5 cm • 3.43 kg • 448 pages • Publisher: TASCHEN