Forty years ago in a basement office in Fitzroy Square, London, England a group of collectors made plans over tea and fig biscuits to form "... a society of like-minded people who love ephemera for its own sake, but also recognise its value as historical evidence... a society to be internationally recognised in due course as the body for the study of ephemera." The Ephemera Society was born and 2015 marks its 40th anniversary year.
Journal of the Ephemera Society 1975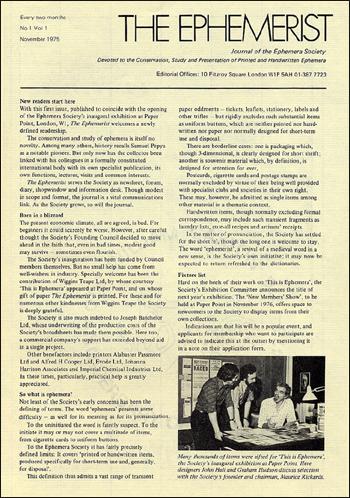 The Ephemerist was first published in November 1975 to coincide with the Society's inaugural exhibition, This is Ephemera held at Paper Point in central London. The launch party attracted not only a large and distinguished gathering but worlwide comment and interest, with large-scale press, radio and TV coverage the Society moved overnight from obscurity to international recognition.
The journal consisted of four pages and was printed on paper gifted by Wiggins Teape and has become a collectors item in its own right not only because it bears the imprint of "No 1 Vol 1" but also because the paper bears the watermark of the Caxton Quincentennial design.
So what is ephemera?
One of the Society's early concerns had been the defining of terms - the word "ephemera" presents some difficulty - as well for its meaning as for its pronunciation. "To the uninitiated the word is faintly suspect. To the initiate it may or may not cover a multitude of items, from cigarette cards to uniform buttons. To the Ephemera Society it has fairly precisely defined limits: It covers printed or handwritten items, produced specifically for short-term use and, generally, for disposal.

This definition thus admits a vast range of transient paper oddments - tickets, leaflets, stationery, labels and other trifles - but rigidly excludes such substantial items as uniform buttons, which are neither printed nor handwritten nor paper nor normally designed for short-term use and disposal. There are borderline cases: one is packaging which, though three-dimensional, is clearly designed for short shrift; another is souvenir material which, by definition, is designed for retention for ever.

Postcards, cigarette cards and postage stamps are normally excluded by virtue of their being well provided with specialist clubs and societies in their own right. These may, however, be admitted as single items among other material in a thematic context. Handwritten items, though normally excluding formal correspondence, may include such transient fragments as laundry lists, cure-all recipes and artisans' receipts.

In the matter of pronunciation, the Society has settled for the short 'e', though the long one is welcome to stay. The 'ephemerist', a revival of a medieval word in a new sense, is the Society's own initiative; it may now be expected to return refreshed to the dictionaries."
Below is an extract from the first issue of The Ephemerist by the late Peter Jackson, former Chairman of the Society and one its Founding Council Members, telling of one his favourite pieces of ephemera - a Frost Fair souvenir, an item of special interest.
Every dog has its day
When the piers of Old London Bridge occupied five sixths of the river's width, they impeded the flow so much that ice piled up in the arches and the Thames froze into a solid mass strong enough to support all manner of fairground booths.

A regular feature of these Frost Fairs was a printing press where, as a souvenir, the visitor could have his name set in type and printed on a leaflet bearing a picture of the fair and some doggerel verse.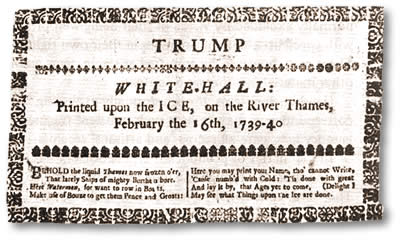 These souvenirs are now extremely rare and this one had been bought by William Hogarth when he visited the Frost Fair on 16 February, 1740 and instead of his own name he had the name of his dog "Trump" printed on it.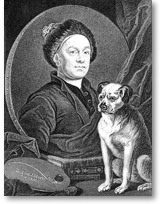 Hogarth clearly treasured this crudely printed sheet of paper. Just before he died he gave it to his secretary Mrs Mary Lewis, who in turn gave it to John Ireland, Hogarth's biographer. He died in 1808 and the item was sold among his effects in 1810. I have been unable to discover who bought it.
This is a fascinating example of how a piece of ephemera can provide a direct link with the past. I can only marvel that this insignificant scrap of paper which Hogarth folded and stuffed into his pocket on that cold February day over two hundred years ago could have survived to repose in my collection.
Perhaps each successive owner has taken to heart the doggerel verse printed on it. It enjoined each one of us to
" ... lay it by, that Ages yet to come,
May see what Things upon the Ice are done".