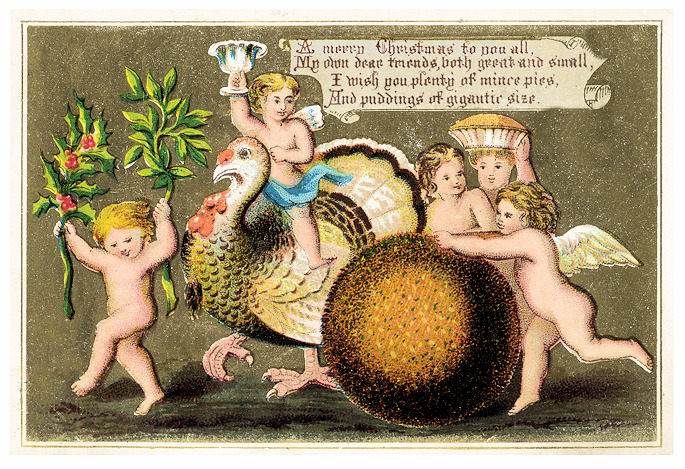 Talking Turkey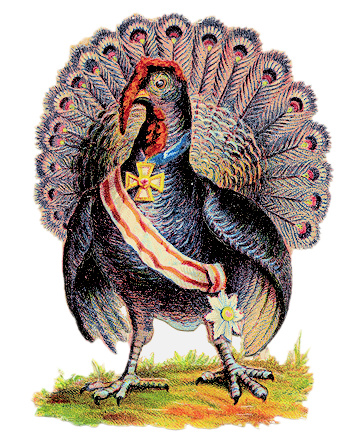 As we waddle through the wintry corridors of history, one feathered fellow has strutted its way into our hearts and onto our festive tables—the noble turkey. As the jingle bells start their merry chime and the aroma of roasted delights fills the air, it's time to delve into the culinary heritage of our beloved Christmas turkey accompanied by a delicious helping of vibrant Victorian greetings cards that whimsically portray these gobbling guests.
The custom of eating turkey at Christmas in Britain is thought to date back to the 16th century. This strange-looking bird was introduced to England by merchants who had brought this unusual but interesting creature from the Americas. It became fashionable among the English elite due to its novelty and size, making it a symbol of wealth and prosperity. However, it wasn't an immediate hit for Christmas celebrations.
During the Tudor period goose, beef, venison and wild boar were among the popular choices for a Christmas feast. But during the reign of King Henry VIII, turkey started gaining popularity with the landed gentry. The larger size of turkeys made them appealing for festive occasions, especially for bigger gatherings and banquets.

By the 19th century, Queen Victoria and her husband Prince Albert helped secure the practice of eating turkey at Christmas time. They famously enjoyed a Christmas feast that included roast turkey with all the trimmings, and their celebration was widely reported in the newspapers. This portrayal of the royal family helped popularise the bird as the crowning glory of a Christmas Day dinner throughout the country.
Moreover, Charles Dickens' "A Christmas Carol," published in 1843, also contributed to the association of turkey with Christmas. The Cratchit family's Christmas dinner with a prized turkey, despite their modest means, showcased the idea of sharing and abundance during the festive season.
Over time, the tradition of serving turkey at Christmas became deeply ingrained in British culture. Today, it's the highlight of many Christmas dinners, often accompanied by stuffing, roasted vegetables, gravy, and cranberry sauce, symbolising a shared feast and a sense of togetherness.
From Top
Victorian greetings card dated 1873
The proud Turkey leads the procession of favourite Christmas food -
"mince pies and puddings of gigantic size"
114 x 76mm (4½ x 3in)
::
The quintessential star of Yuletide feasts wearing a sash and insignia
Detail from Victorian greetings card, circa 1870s
::
Victorian greetings card illustrated by George Cruikshank
Gnomes taking a reluctant turkey through the snow-clad landscape
Published by Raphael Tuck & Sons, circa 1870s
165 x 57mm (6½ x 2¼in)
::
Victorian greetings card
"One good turn deserves another" - the turkey's revenge
Published by De La Rue, circa 1870s
102 x 70mm (4 x 2¾in)